---
Natural stone and quartz are two of the most popular materials for kitchen countertops and bathroom vanity tops. They come in a wide array of beautiful colors to compliment your interior design. You can choose from more neutral tones to a wider array of color variance that will provide a bit more eye-candy in your kitchen or bathroom.
---
Granite Kitchen Countertops & Bathroom Vanity Tops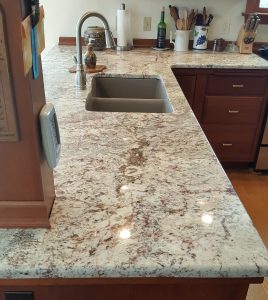 Granite uniquely displays the natural beauty of stone and can provide a sophisticated look to any kitchen. Quarried from locations around the world, granite countertops and vanity tops are functional surfaces that last for years and years. Granite is an incredibly durable countertop option and more affordable than you might imagine.
Soapstone Kitchen Countertops & Vanity Tops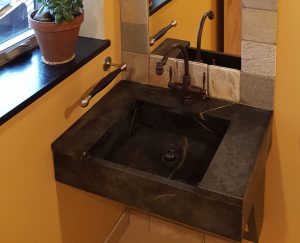 If you are wishing for a more subtle natural stone countertop surface, soapstone might just be what you are looking for. Scratches easily disappear with very fine sandpaper on this non-porous surface.
Marble Kitchen Countertops & Bathroom Vanity Tops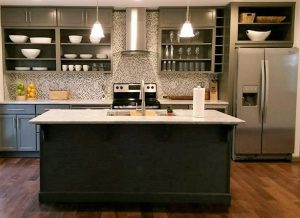 Marble is an elegant addition to any kitchen and equally stunning when used in a master bathroom. We offer marble in both polished and honed finishes.
Quartz Kitchen Countertops & Bathroom Vanity Tops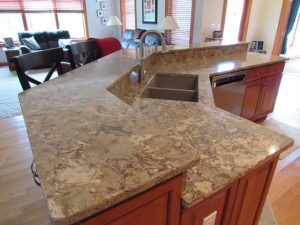 We carry several brands of quartz including Cambria, Caesarstone, and Silestone. Quartz counters are made from a mixture of pure natural quartz (up to 93%) and other materials combined to provide an ideal kitchen countertop or bathroom vanity top. This material is highly resistant to staining and provides an incredibly, durable surface.
Examples of our Natural Stone Kitchen Countertops & Bathroom Vanity Tops
This slideshow requires JavaScript.